Woodlands Boutique Reveal Program Opening Is A Success
---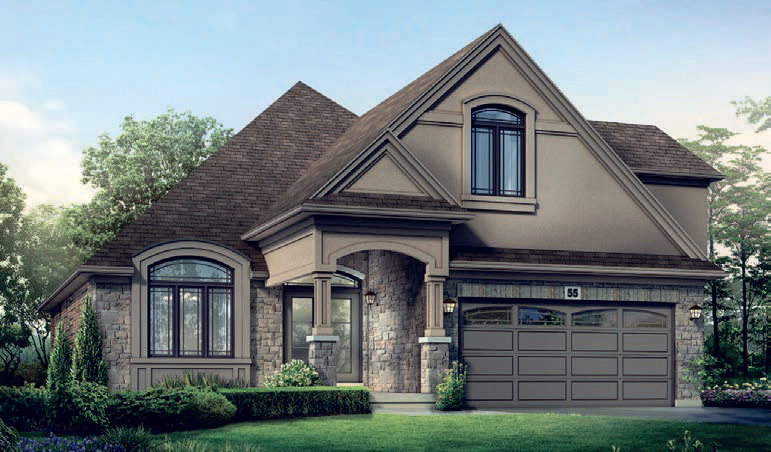 2016-04-06
This past weekend Losani Homes opened the Woodlands Presentation Centre doors to hundreds of visitors to release the first chapter of the Woodlands story. This exclusive community is nestled on the edge of the forest where almost every lot backs onto breathtaking conservation lands. Offering a limited collection of only 64 homes comprising 2-storey and bungalow designs on 40-foot, 46-foot and 50-foot forest court lots, Woodlands is going to be a well-established and sought-after community in Ancaster.
Lino Losani, President of Losani Homes, comments, "We knew we had something special when we first saw the site that became Woodlands. With preserved conservation lands and a total of 52 acres for a very small number of homes, this was a unique property with only forest cul-desac lots in an established, very desirable neighbourhood. Tracing the contours of the forest, the plan for Woodlands will create the finest address in east Ancaster, with just four courts surrounded by ponds, woods and greenspace, connecting each lot to nature. We are very proud to be part of a neighbourhood like this."
This is a special opportunity for prospective home owners to purchase a home where the forest really is your backyard.
The boutique reveal weekend included the viewing of the official video trailer, a video showcasing aerial views of the community and the aerial site plan. This introduction is part of the boutique reveal program Losani is offering at Woodlands, allowing prospective purchasers the opportunity to familiarize themselves with the exclusivity of the community. The release of chapter two of the Woodlands story will unveil the site plan, grading plan and the magnificent backyard views.
In addition, due to overwhelming interest in this upscale community, Losani will be offering a sneak peek of their inspiring Tuscan, Chateau and Modern home designs over the next week. The Chateau series offers impeccable elegance and lavish features with a classic stone and stucco façade showcasing elegant windows and chateau inspired rooflines. Complementary, the Tuscan series boasts elegant rooflines, upscale stone and stucco finishes, covered porticos, and beautiful custom style deep tone windows and full glass doors.
The never-before-seen Modern series is striking, featuring stone and smooth brick facades with modern wood-style paneling accents, dramatic dark trim and large format windows; these stunning designs offer a new level of sophistication. The homes will feature inspirational interior features and finishes, including quartz or granite kitchen countertops, hardwood flooring on the main level, extended height kitchen cabinets, and more.
If you didn't make it to Woodlands for the first reveal, head to the presentation centre at 1169 Garner Rd. East in Ancaster this weekend from 12 to 4 p.m. Meet the sales representatives, pick up chapters one and two of Woodlands, and learn why everyone is excited about this new home community by Losani Homes.
---
---