Losani Homes achieves Platinum Status for the 9th Consecutive Year
---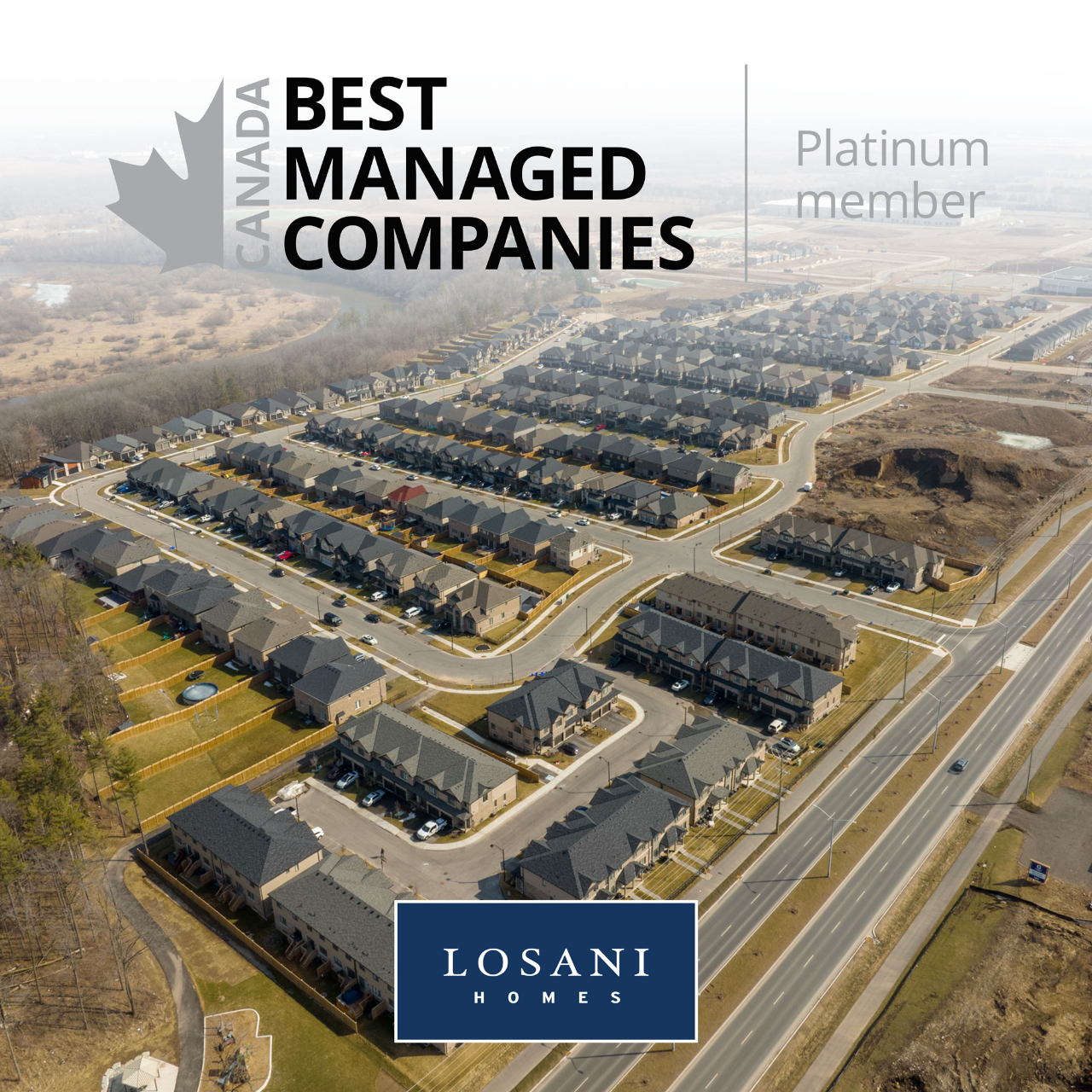 2022-05-13
Toronto, Ontario (Tuesday May 10th, 2022) – Losani Homes is a 2022 winner of Canada's Best Managed Companies Platinum Club designation, proudly having retained the Best Managed status for the past 9 years. Losani Homes first attained the Platinum level in 2013 and has continued in its pursuit of innovation and excellence through the intervening years.
Losani Homes has been guided by the spirit and vision of founder, Giovanni Losani whose motto has always been, "Be honest and give the people what they deserve."
The 2022 Best Managed Companies award winners are amongst the best-in-class of Canadian owned and managed companies with revenues over $50 million demonstrating leadership in the areas of strategy, capabilities, innovation, culture and commitment, and financials to achieve sustainable growth. Now in its 29th year, Canada's Best Managed Companies remains one of the country's leading business awards programs recognizing Canadian-owned and managed companies for innovative, world-class business practices. Every year, hundreds of entrepreneurial companies compete for this designation in a rigorous and independent process that evaluates the calibre of their management abilities and practices.
"To become a Best Managed Platinum Club winner is a huge accomplishment," said Derrick Dempster (Partner, Deloitte Private and Co-Leader, Canada's Best Managed Companies program). "These companies demonstrate resilience, versatility, and strategic acuity. They have consistently proven their ability to thrive in a competitive, rapidly changing market. This year's winners should take pride not only in this prestigious recognition but also in the important contributions they make to the Canadian business world."
"To merit Platinum status as one of Canada's Best Managed Companies for the past 9 years and to be recognized as Canada's Best for 16 years is an indication of the long-term successes throughout the Losani Homes organization. This award recognizes what we do to best serve our customers and communities while displaying excellence and consistency every single year," said Fred Losani, CEO of Losani Home.
Losani Homes takes great pride in the work that they do as a homebuilder and business leader in Hamilton and surrounding communities. Losani Homes has also been very committed to helping communities in need of support either financially or otherwise. Most recently, donations have been made in Hamilton, Brantford, Paris, Grimsby, Beamsville and St. Catharines.
"Losani Homes has a strong moral conscience, and we engage our communities through our charitable endeavours. This is possible because of our financial successes and our strong team. It is because of the collective efforts of many that Losani Homes continues to make a difference," said Fred Losani.
---
---