Losani Homes Unveiled The Presentation Centre For Central Park In Hamilton!
---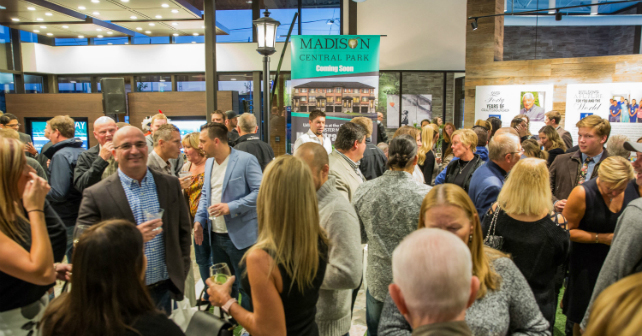 2016-10-26
The Newinhomes.com team recently had the pleasure of joining Losani Homes for the highly anticipated presentation centre unveiling at Central Park in Hamilton.
To commemorate the project's milestone, Losani unveiled a 12' by 12' LOVE sign, inspired by the popular Robert Indiana LOVE sign in New York. Losani cleverly placed an "i" in the "o" of LOVE so that it can read as "Live/Love' or "Love/Live." In addition to the large sign, there was an amazing fireworks show, which is something we've never seen at a presentation centre unveiling before.
Located on Rymal Road in Stoney Creek, Central Park is the largest master-planned community in the city, and has 15 acres of naturalized greenspace including a neighbourhood park in the heart of the community, inspired by New York's famous Central Park.
"I have always been amazed by the foresight of Central Park in New York," says Fred Losani, Losani Homes' CEO. "To have the vision to create such a protected natural environment in the absolute centre of such urbanity was what we wanted to duplicate at Central Park Hamilton, and we have achieved this in every respect."
There will also be a five-acre community pond and a five-acre Eco-Trail promenade including walking trails, lookouts, and seating areas. Plus, all the greenspace is adjacent to the protected Eramosa Karst Conservation Area. The walking trails will lead to the extensive Bruce Trail, and will be specially modified to accommodate baby strollers, wheelchairs, and bike clubs.
"We are committed to working one on one with each home purchaser with special needs to ensure that the home meets all their accessibility requirements," says Losani.
Central Park will feature four neighbourhoods. The first one to launch will be Park Ave., which is inspired by Greenwich Village and Park Avenue, featuring freehold townhomes starting from the low $300,000s and 33' to 50' detached homes starting from the high $400,000s.
"We feel Central Park Hamilton offers incredible real estate value," says Losani. "Beautiful designer homes located in a safe, warm and welcoming full-service community with prices a third of Toronto in a market poised to explode, is an opportunity not to be missed."
The Madison neighbourhood will feature two- and three-storey urban townhomes steps from Eco-Trail Promenade and the park. Soho is a collection of mid-rise condo units with clubhouse style amenities, also near the Eco-Trail and park. Midtown will feature mid-rise condos and two- and three storey urban townhomes next to shops, services, and restaurants on Rymal Road.
The LOVE sign has been unveiled, marking a new milestone for the Central Park master-plan. With prices starting in the low $300,000s, we won't be surprised if a few first-time buyers are showing interest. Also, condo owners in downtown Toronto are eyeing Central Park as a great move-up opportunity!
---
---