Losani Homes Launches "The Great Garage Revolution" With Its Flexible New Townhomes
---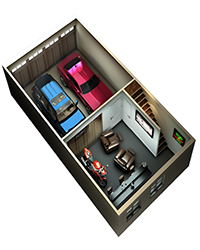 2013-03-11
There is a revolution brewing in downtown Kitchener - an entirely new way to look at townhome design and the way we live..
With the tremendous success of its launch in February, the award-winning builder Losani Homes has just introduced an innovative new collection of townhomes at Victoria Common in Kitchener, the largest master-planned urban community ever launched in Waterloo Region.
Among the townhomes' many appeals is what the builder calls the "FlexSpace Advantage" - a measure of exceptional design flexibility which all the floor plans demonstrate.
Those who have already comparison shopped know that the vast majority of townhomes only offer single car garages. But at Victoria Common, Losani's designers have provided the garage space for two cars - parked in tandem or side-by-side - plus space for a third vehicle in the driveway.
Yet Losani is giving its homebuyers unprecedented flexibility and choice. Because if homeowners are happy with just one parking space in the garage, they can convert the second space into a room tailored to their lifestyle, with an unlimited range of options. It can be a functional space like a private office, a gym, a work room or a mud room. Or it can be an entertainment area - with a home theatre, a games room, a hobby room or a den with a bar ideal for hanging with friends.
"Flexspace is a real 'plus' for our homebuyers," says Fred Losani, president of the company. "We offer 14 models but those blueprints are just the beginning. Because each offers a half dozen different options to customizing what would otherwise be a lonely and unglamorous area of the home."
At Victoria Common, Losani is offering a collection of affordable and customizable two - and three-level townhomes with prices starting from $249,900. Ranging in size from approximately 1,060 to 1,985 square feet, each of the 101 towns in Phase I will be luxuriously appointed throughout with hardwood flooring, stone countertops, 9' ceilings, keyless entry, premium lighting and plumbing fixtures, and custom Barzotti cabinetry.
A brownfields redevelopment, Victoria Common will quickly evolve into a dynamic new cosmopolitan centre in downtown Kitchener, a pedestrian-friendly place where life's essentials are within easy walking distance, and incorporating one of the most advanced green energy systems in Canada.
The social and geographic heart of the community is the Piazza, an activities-based urban park. With its own clock tower, concert podium, and splash pad/ice rink, the Piazza beckons passersby with public benches and cafè-style seating areas, all beautifully landscaped.
In the heart of "Canada's Technology Triangle', Victoria Common is situated near King Street, minutes from Kitchener's downtown stores, restaurants, bars, parks and the Farmers Market. The community is within walking distance to GO Transit and the new LRT, and close to K-W's universities and major highways.
"It's not just Flexspace that makes our townhomes so attractive, says Losani. "Each model offers value-driven standard features and quality never before offered at this level of affordability... anywhere. From the homes' exceptional green and energy-saving design to their unique kitchen plumbing technology and appliance solutions, these homes incorporate a number of industry breakthroughs."
Catering to the Region's tech-savvy citizens, the builder will offer a limited number of early buyers with a range of SmartHome automation features built into their townhomes. Utilizing Control4® technology, buyers will be able to enjoy wireless touchscreen/tablet control of many components of their home, including security, lighting, entertainment, and climate systems. It's new home technology that reflects both Losani's understanding of what today's buyer wants, and how our living spaces can be made more functional for today's digital culture.
Victoria Common's Presentation Centre is now open. To arrange an appointment to preview this unprecedented new collection of Losani townhomes, call 519-585-0500 or register at the website at victoriacommon.ca. where you can view the interactive site plan, as well as Google Earth and virtual walkthroughs for a truly virtual site visit.
With its longstanding commitment to excellence, Losani Homes' signature quality and innovation can be found in dozens of new home communities across Southern Ontario. Steeped in a tradition of honesty and excellence, the family-run business opened its doors as a builder in 1976, building a reputation for quality that is reflected in the numerous awards they have won for their innovative home designs and service. In fact, the company was favoured with more awards in the last decade than any other builder in the area, culminating with a record eight wins for the year 1999, including the prestigious top builder award.
---
---