Losani Homes - Traditional Values Guide One of Canada's Most Respected New Homes Builders
---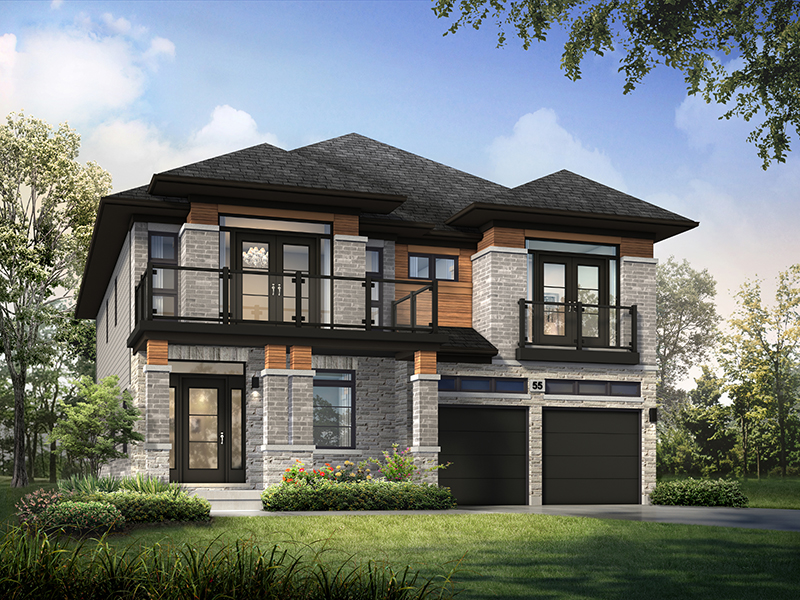 2016-03-29
Celebrating its 40th Anniversary in 2016, Losani Homes of Stoney Creek, Ontario has built an enviable reputation as one of Canada's most respected new home developers. Losani is recognized in the industry for innovative design, the highest quality construction standards and exceptional customer service. Founded by experienced builder John Losani and his son Lino in 1976, with younger son Fred joining the team in 1985, Losani Homes prides itself on its tradition of excellence and honesty guiding all of its business practices in the development of its fine quality single family, townhomes and semis in its outstanding new home communities in Ancaster, Beamsville, Binbrook, Collingwood, Hamilton, Kitchener, Paris and Stoney Creek. From its unique one-on-one approach to customer sales and marketing, to its meticulous Europeaninspired workmanship in every aspect of construction, and its after-sales focus on customer service, this esteemed company has been recognized with more awards in the last decade than any other builder in the areas in which it operates. Losani is proud of its designation as a Platinum Member of Canada's Best Managed Companies. In addition, Losani Homes' customers have awarded the company with the Consumer's Choice Award in the categories of service, value and quality for 4 consecutive years from 2013 – 2016.
The new home building process at Losani Homes begins with searching out the best and near-perfect locations in which to build their new communities. Infrastructure, transit, access to shops and services and community facilities such as schools, hospitals and recreational facilities are all taken into account, resulting in locations which have all the attributes needed for a family's daily life. Losani also takes into account the central areas for family life, including the back yard, and designs its homes and communities for the ultimate in privacy, envisioning areas for BBQs, pools and superior back yard views. Fallingwaters on the Stoney Creek Escarpment is a prime example of Losani Homes' care and attention to natural surroundings, and its ability to secure the best locations. Inspired by famed architect Frank Lloyd Wright and his historic melding of sleek and horizontal design features within a natural environment, Fallingwaters will take Losani Homes' contemporary design capabilities to the next level. This collection of just 41 modern towns with panoramic views will be the perfect complement to the flow of nature, sitting just a stone's throw from where Centennial Falls tumbles down in torrents. This ideal location has downtown Stoney Creek just minutes away, surrounded by nature and views of forest, stream and pond. In addition to the vibrant possibilities of Hamilton's booming economy, this location is a true gift to families who wish to explore and embrace nature and the environment. Whether hiking or biking the many kilometers of trails along the Escarpment, or visiting the dozens of waterfalls that mark the mountain, Fallingwaters is a nature lover's delight. Another unique community is Woodlands in mature and elegant Ancaster. This collection of 64 homes comprised of 40, 46 and 50-foot forest court lots features sophisticated singles backing onto protected conservation land. The exceptional Château, Tuscan and Modern home designs on wooded cul-de-sacs are naturally gifted with green—truly a rare and wonderful opportunity for any growing family. Set deep amidst mature forests, back yard views at Woodlands are surrounded by an enchanting natural environment. The Prairie Modern community in Stoney Creek offers an exclusive enclave of just 22 townhomes, featuring modern high-rise design in a low-rise product. The community is located between the picturesque Felker's Creek and the sports fields of the Heritage Green Sports Complex, just a short stroll from the Escarpment and Felker's Creek Conservation Area. Simply Grand is a collection of charming singles and towns in Paris, one of Ontario's most livable communities and known as the "Prettiest Town in Canada". Simply Grand offers a limited collection of freehold towns and singles on 32, 42 and 50-foot lots.
The three-man family partnership at Losani Homes know the construction industry intimately, allowing the Losanis to get the most reputable and skilled tradespeople and suppliers, and to negotiate the best possible prices. This cost-saving effort is passed onto the future home buyer in the form of a high quality, yet affordable finished home. Losani has always been known for excellence in design, offering homes which have a unique blend of traditional craftsmanship with the features and finishes necessary in today's modern world. Fluid and flexible floor plans form the centrepiece of family life allowing for efficiency in everyday living.
Losani is a homebuilder with a bright and optimistic future, yet grounded by the best business practices and traditions of the past. New thinking and new approaches are always at the forefront, but Losani Homes never loses sight that attention to detail in exceptional customer service, pre-sale and after-sale, is what sets them apart, taking pride in their unique and personal approach to sales and marketing.
Losani's innovation in one-on-one customer service is best represented by its recently introduced and revolutionary Pronto Homes On Demand, Ontario's largest ready build program. Pronto Homes On Demand is individual in its approach to marketing and allows purchasers guaranteed closing dates and prices, the two biggest concerns when purchasing a new home. New homes in the program are about 30% constructed, or in some cases 100% complete, allowing purchasers to walk through, touch, feel and experience the actual home they may purchase as it is being constructed, and often they can move into those homes in 30, 60 or 90 days. Family-owned and recognized through the industry for honesty, quality, and integrity, Losani Homes will never waver from its original traditional values and guiding principles. Their commitment to innovative design and superior customer service guarantees will guide the company through its exciting future. For more information about Losani Homes' current and upcoming communities and its Pronto Homes on Demand program visit www.losanihomes.com.
---
---