Happy Couple Purchases A Losani Pronto Home In Hamilton
---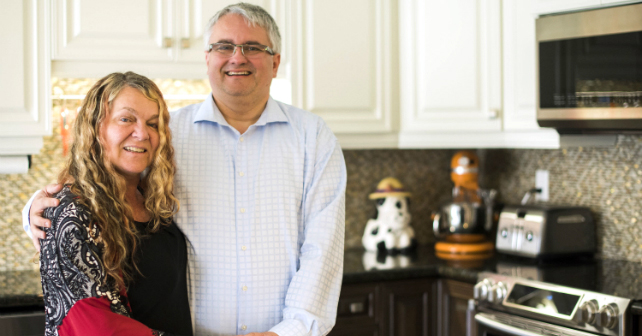 2015-11-10
Earlier this year, couple Doug Sloan and Karyn Taylor purchased a new home at Losani Homes' Hamilton community, Sherman Oaks, through the innovative Pronto Homes on Demand program.
The Pronto Homes on Demand program gives buyers the opportunity to tour model homes that are between 30% and 100% built, allowing them to personalize finishes while construction is underway. Every home purchased through the program can be moved into within 30, 60, or 90 days!
Doug and Karyn purchased their new home at the end of March 2015 and moved in during May. "We were pleased with the process," Doug says. "It was great being able to tour the actual home we bought without guessing what it would look like. From the moment we walked into our home, which was nearly finished, we knew it was perfect for us."
They purchased a two-storey detached home with a three-bedroom+media layout, with just under 3,000 square feet of space.
"We arrived at the sales centre five minutes before it was to close, and the sales rep kindly showed us the home anyway," Doug adds. "Within two days, we went back to buy. We love the open-concept design with high ceilings and hardwood floors, and Losani had installed several upgrades. The quality of all of the finishes is top-notch, and we are impressed with Losani's meticulous attention to detail."
Losani Homes is well known for their selection of tasteful and contemporary finishes, and many of the designs at Sherman Oaks have won awards, so it's not surprising to hear that Doug and Karyn were so pleased by the number of amazing options and the level of customization involved.
"We love the colours the company chose as well," says Karyn. "The walls and baseboards are painted a warm off-white tone, and in the kitchen, the upper cabinets are the same, with dark oak lowers. A lot of natural light enters the home through plenty of windows, and the effect is beautiful."
"We have a main floor laundry room, which is handy because it's located between the garage and kitchen," Karyn continues. "It's like a mudroom. You can come in from doing yard work and throw dirty clothes right into the wash."
Recognizing a great location is also a strength of Losani Homes. Sherman Oaks is surrounded by schools, parks, restaurants, grocery stores, and shopping opportunities. The amazing neighbourhood helped convince Karyn to move from Oakville and Doug from Burlington.
"We looked around at several cities and builders, and we liked both Losani and the Hamilton location of Sherman Oaks," Doug explains. "It's a quieter, more tranquil neighbourhood. This is a fantastic community with generous space between homes providing privacy. We also see a lot of wildlife in the area."
"Losani is very proactive and responsive," Karyn adds. "If we ask about something, it's taken care of right away." She also says that they "felt at home here right away. We're very happy!"
Sherman Oaks in Hamilton has only a handful of two-storey detached singles still available, with quick closings on some award-winning designs. Prices are starting as low as $522,900.
---
---