Hamilton's Convenient Amenities Surround Central Park By Losani Homes
---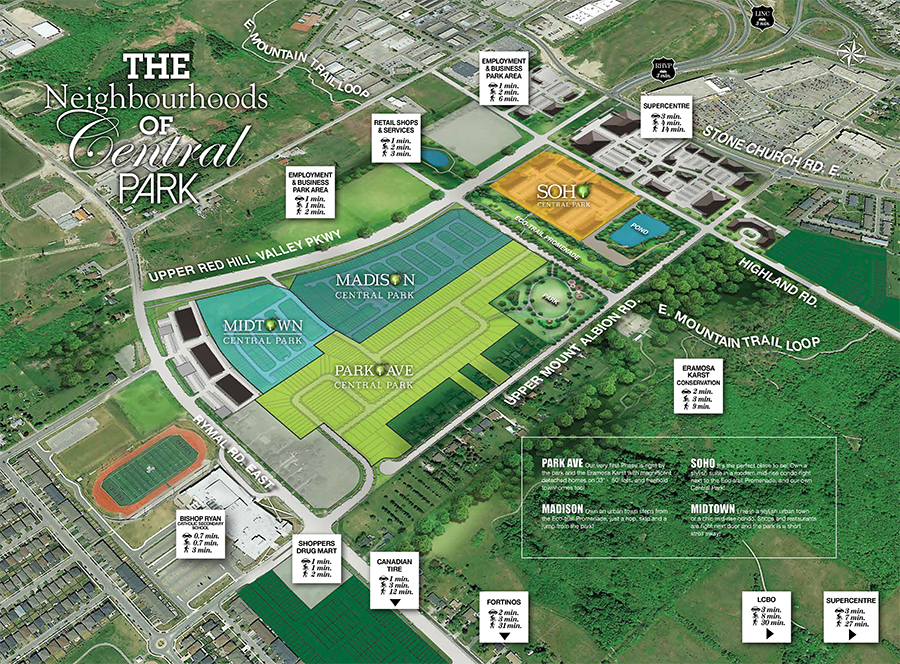 2016-06-28
When Central Park, a master-planned low- and mid-rise Hamilton community by Losani Homes, is completed, its residents will find numerous amenities just around the corner.
In fact, there are countless parks, schools, retailers and restaurants surrounding the leafy low-rise development, currently in the registration phase at 1831 Rymal Road East, by Upper Mount Albion Road.
Showcasing the offerings, which range from entertainment to education, the award-winning builder has created a graphic (above) including commute times — many under five minutes by car — to a variety of local destinations.
For instance, a quick glance at a map of the area reveals film buffs can drive to the nearby SilverCity Cinema in just four minutes or the open-air Starlite Drive-In Theatre in eight. Athletic attractions such as Valley Park Arena and Recreation Centre, Mohawk Sports Park and Heritage Green Sports Park are each between six and eight minutes away by car.
The immediate area around Central Park also boasts a cluster of restaurants — Five Guys Burgers, Kelsey's, Valentino's Restaurant, Montana's and August 8 — along a commercial strip that's a four-minute car commute to the north.
To arrive at other destinations, you can leave the ignition key at home. It's just a five-minute stroll to Bishop Ryan Catholic School, one of a few schools closeby, and Eramosa Karst Conservation Area is a 13-minute walk from Central Park. A Sobey's grocery store is set to rise right beside the neighbourhood as well.
Just steps from Central Park homes' doors will be a large park, which the community will be built around, hence its name.
Register at mycentralpark.ca to keep up to date on the latest news about Central Park and for VIP access to events.
For more information about the community, visit the Central Park page at www.losanihomes.com.
---
---