Hamilton's Central Park An Inspiring New Community In A Sought-After Market
---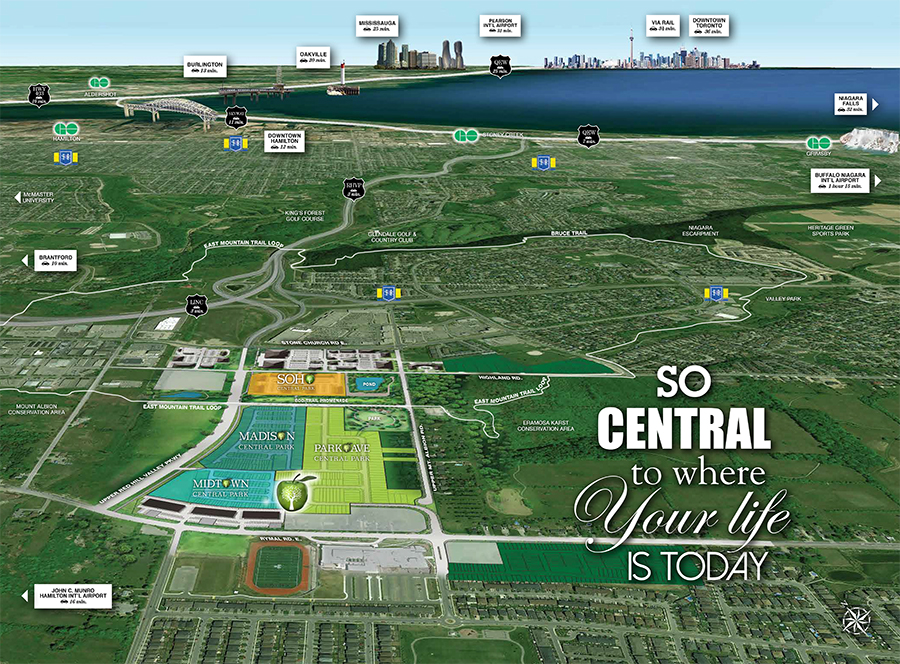 2016-08-02
HAMILTON WILL SOON be home to one of the largest and most innovative master-planned communities in the country – Central Park – to be developed by Losani Homes, one of Ontario's most respected new home developers. This master-planned community of residences will be located in the heart of booming East Hamilton, one of the strongest real estate markets in the province, with pricing that is well below those in the Greater Toronto Area. Convenience is key at Central Park. The development is perfectly located for easy travel; the community is only a four-minute drive to both the Lincoln M. Alexander and Red Hill Valley Parkways, which connects to the QEW and 403 in less than 10 minutes. Central Park will be a new community in every way, offering a safe and secure family-oriented environment in a highly desirable location. It will feature a variety of designs for detached homes and towns, convenient commercial space, and will be close to major retail, shops, parks and schools.
Losani will begin with the Park Avenue neighbourhood. The first phase will be located between Highland Road West and Rymal Road East, right next door to the beautiful protected conservation lands of Eramosa Karst. Park Avenue will be at the heart of the community and offer elegant freehold townhomes and detached homes on 33- to 50-ft. lots, with some homes near Albion Park, the central park of the development or the neighbouring 78 hectacres of parkland of the Eramosa Karst. Future neighbourhoods such as Soho, featuring six midrise condominium buildings, Madison, featuring two midrise condominium buildings and urban towns, and Midtown, offering three-storey urban towns, will follow.
Losani recently added two new inspiring design collections to its repertoire – the Tuscan and Modern Collections – at Central Park, creating a diverse streetscape. Everything you need is within walking distance at Central Park, with an abundance of neighbourhood amenities including the Power Centre, as well as a Sobey's, Home Depot, Starbucks, eateries and a Cineplex. Recreational facilities, such as golf courses, arenas and community centres, are highly accessible by foot or bike. Accessibility by foot, bike or car is a key feature of Central Park – you truly are central to everything.
Central Park will also be a nature lover's paradise, with the Bruce Trail, Felker's Falls, Billy Green Falls, Albion Falls and Billy Monkley Falls all close by. Nature truly is just outside your front door.
Losani Homes is celebrating its 40th Anniversary in 2016.
For more information on the transformational new community that will be Hamilton's Central Park and to receive VIP access, register now at mycentralpark.ca
---
---