Fred Losani, Homebuilder and Philanthropist, Discusses The Builder's Unique Approach To New Homes
---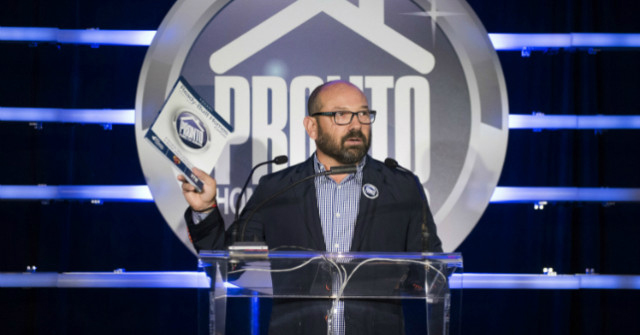 2016-07-27
With the recent news that Losani Homes is getting ready to launch one of Canada's largest master-planned communities in Hamilton, we wanted to set up an interview with Fred Losani, CEO of Losani Homes, to chat with him about Losani's story, their plans for the future, and their unique approach to homebuilding.
When Losani Homes was founded 40 years ago, the family set its roots in Hamilton and the Stoney Creek region after relocating from Italy. Losani explained that his father started a contracting business in 1972 and by 1976 he was building homes.
"Hamilton has always had a strong marketplace, and the people here believe in the small-time builder and personal attention we have to offer. From there, we just kept growing," he said. Today, many of Losani Homes' current communities are in Hamilton and surrounding areas, including Kitchener, Paris, Ancaster and Stoney Creek.
In the last year, Losani Homes has launched eight projects and they've all sold out quickly. Some sold out in just two or three weeks. "We prioritize discovering those up-and-coming gems and acquiring land well ahead of the curve. We branch out from our crown communities like Hamilton, which affords great opportunities for us and homebuyers," Losani said. "We have so many incredible communities coming up in emerging areas like Brantford, St. George, Paris and Grimsby. In Beamsville, we have 600 units soon to be offered in that area and we expect buyers from the GTA to flock to it due to its premium location and value. Vista Ridge, set to open early 2017, is on the Beamsville plateau. This is an exclusive site built on a vineyard. We have exciting years ahead of us in these upcoming markets."
Due to the low inventory and rising prices across the GTA, especially in the new low-rise market, Losani Homes is seeing a great deal of success in areas like Brantford, Beamsville, and Paris, Ontario. "It's all about affordability, supply, and, most importantly, quality of life. The GTA marketplace with its growth is starting to look beyond its borders. Buyers are discovering Hamilton and surrounding areas in a big way. Six years ago, about 22% of our buyers came from Burlington and the GTA, and now it's more like 35%. In Paris, 41% of our buyers were from the Greater Toronto Area," Losani explained.
When Park Avenue, Phase 1 of Central Park in Hamilton, launches, Losani expects 60% of the buyers to be from Hamilton and surrounding area and the other 40% to be from Burlington and further east. People will continue to make the move from the GTA to the Hamilton area.
"The Central Park community is incredibly special," Losani said. "There will be 1,300 new homes in an urban setting with premium access to modern amenities that are accessible by foot, bike or car. With so many schools in the area, children have the opportunity to walk to school from the day they start kindergarten to graduating grade 12. This is a community that will afford a high quality of life to all residents."
Plus, Losani is bringing a range of unique designs to Central Park, from traditional to modern, Tuscan, and contemporary. "Modern architecture was always reserved for higher end housing, it didn't cater to the affordable side of the marketplace. We've found a way to do it and it has captured the attention of buyers as we have seen at our Woodlands and Fallingwaters communities," said Losani.
Losani Homes launched the Pronto Homes on Demand Program to promote their ready built homes. The program allows prospective homeowners to look, feel and touch Pronto homes prior to purchasing, and gets them moved in sooner, sometimes in as little as 30 days. With such a strong demand for new low-rise housing, the program is highly successful.
"Since the Pronto Homes on Demand program competes with both the new home market and the resale market, the program is a great success. So much so that we are almost out of inventory, but I assure you, the program will be back in full swing as new home communities open," noted Losani.
With 240 units being released in Park Avenue (Phase 1) of Central Park and another 330 units in Phase 2, Losani is confident that the Pronto program will return. With the success of Pronto, Losani can confidently start construction with 50% of the units sold. In the case of the mid-rise condos that are planned for Central Park, Losani said they may even start building with 25% sold. This is a huge advantage for Central Park purchasers.
The Losani Family Foundation focuses on supporting local charities and organizations as well as international efforts. Looking to their trades and associates for support, the Foundation raised over $460,000 last year for children's charities in Hamilton and the Niagara area.
Internationally, Losani Homes has been working to make a difference overseas. In Western Kenya, Losani Homes adopted a village and contributed to the development of necessary infrastructure, such as education, a clean water source, and new housing.
And this year, Losani Homes' employees flew to Ecuador to help build a new classroom in a village of 200 called Los Rios, as well as a brand new medical facility in the neighbouring Modena village (servicing 12,000 people from surrounding villages).
"As Canadians, we are very fortunate. There are people all over the world that would love to be homeless in Hamilton," said Losani. "We know we have a responsibility to make a difference. This has changed the culture of our company dramatically. We work towards being successful not just for ourselves, but so we can make a difference in our local and international community."
Losani Homes has a fresh approach to new home sales. They have a detailed reveal program that allows them to share new information about a project gradually with Loyalty Club and VIP registrants via email. Registrants are invited to attend an exclusive preview where they receive the marketing brochure, including floor plans, site plan, features and even model specific starting prices.
This is an opportunity to have questions answered by the Losani team prior to purchasing, which allows prospective purchasers to have all the information they need to make an informed purchasing decision without the pressure of long line-ups. Those who attend the preview are able to book a private sales appointment online, right from the comfort of their home.
"We treat our prospective purchasers with the respect they deserve. Our goal is to provide a pleasurable and educational buying experience in a no pressure, comfortable environment. It goes so smoothly and has such an air of calm about it – I think it's the way all homes should be sold," said Losani.
For more information about Losani Homes and their current and upcoming communities visit www.LosaniHomes.com.
---
---