Close Before Christmas - At The Fairgrounds By Losani Homes
---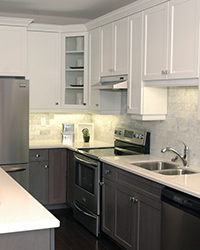 2013-09-10
It's not too late! Purchase now at Fairgrounds Prestige or Parkside Village and you can move into your brand new Losani Ready-Built home before Christmas. Be a part of Hamilton's fastest growing community, with new amenities such as FreshCo, and state-of-the-art schools - this family oriented community is an ideal place to live and grow.
There are many 2 storey, 3 storey, and bungalow towns to choose from, designed with you in mind. With interior features in various models, such as 9ft ceilings, hardwood floors, granite countertops, gas fireplaces and much more. The townhomes at Fairgrounds Prestige are the first release of French-inspired Chateau elevations. These elevations combine stone and stucco, as well as earth tones to create a very sharp European-inspired design.
Parkside Village offers quaint courtyards and is located next to the 19-acre community park, which includes a soccer field, splash pad, walking trails, and play structure. All of the abounding amenities in Binbrook make Parkside and Fairgrounds and great place to make roots and raise a family. Its natural setting and country feel also make a great location for empty nesters looking to downsize.
Fairgrounds and Parkside homes in Binbrook add urban flare to the quaint town, and because many of the townhomes are "ready-built", purchasers will get a chic home for an affordable price.
Other advantages of ready built homes include flexible deposits, the chance to see the homes before you buy, full warranties and energy efficient features. Purchasers could also see up to $24,000 in savings when they purchase.
The Fairgrounds and Parkside community is filled with an abundance of activities for people of all ages to enjoy. Nature lovers will be happy with the numerous parks in the neighbourhood and kids can enjoy the newly opened splash pad, a great way to spend hot and humid days.
When you're buying a ready built home from Losani Homes you are buying a quality built home backed by a skilled team of professionals. Losani Homes has won the Consumers' Choice Award for Quality, Service and Value two years in row. This is a tremendous accomplishment because Losani was chosen by consumers as the builder of choice. The Losani brand is strong and is adding value to the Binbrook community.
Losani Homes is also one of Canada's 50 Best Managed Companies for five straight years. This shows that Losani Homes is a company you can trust when making such an important financial decision. Losani Homes gives you peace of mind at every stage in the home buying process.
Hamilton is leading the way for real estate growth in Canada, according to BMO reports. The Hamilton housing market has remained exceptional even in times of economic downturn. The strength of the community and the city's location in relation to the GTA have played a role in creating a very sound an stable housing market.
---
---