Check Out The Fall Issue Of The Pronto Homes On Demand Magazine By Losani Homes
---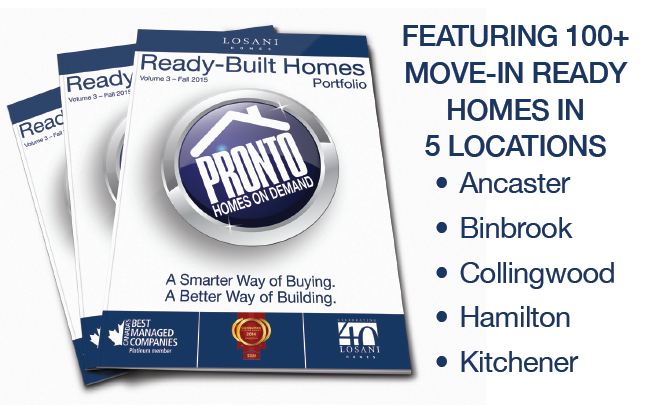 2015-10-28
The latest issue of Pronto Homes on Demand Magazine, a regular digital and print publication from Losani Homes, is available for download and stocked on newsstands in any of the builder's sales offices.
The magazine showcases everything Losani's innovative Pronto Homes on Demand program has to offer, including more than 100 move-in-ready homes located in nine Losani neighbourhoods across five Ontario communities: Ancaster, Binbrook, Collingwood, Hamilton and Kitchener.
Through its home tours, the Pronto program gives potential buyers the chance to truly experience a new-build house before construction is complete. Plus, depending on how far along construction is, there's often still time to select finishes of a buyer's choosing.
Not only that, but the closing date and price are guaranteed, removing some of the guesswork often associated with purchasing property. Pronto homes can be moved into within 30, 60, 90 or 120+ days (depending on how far along in the construction process a development is). In short, Pronto homes are high-quality dwellings for those who can't — or do not want to — wait a year or more for their dream home to be built.
---
---