Building a Legacy
---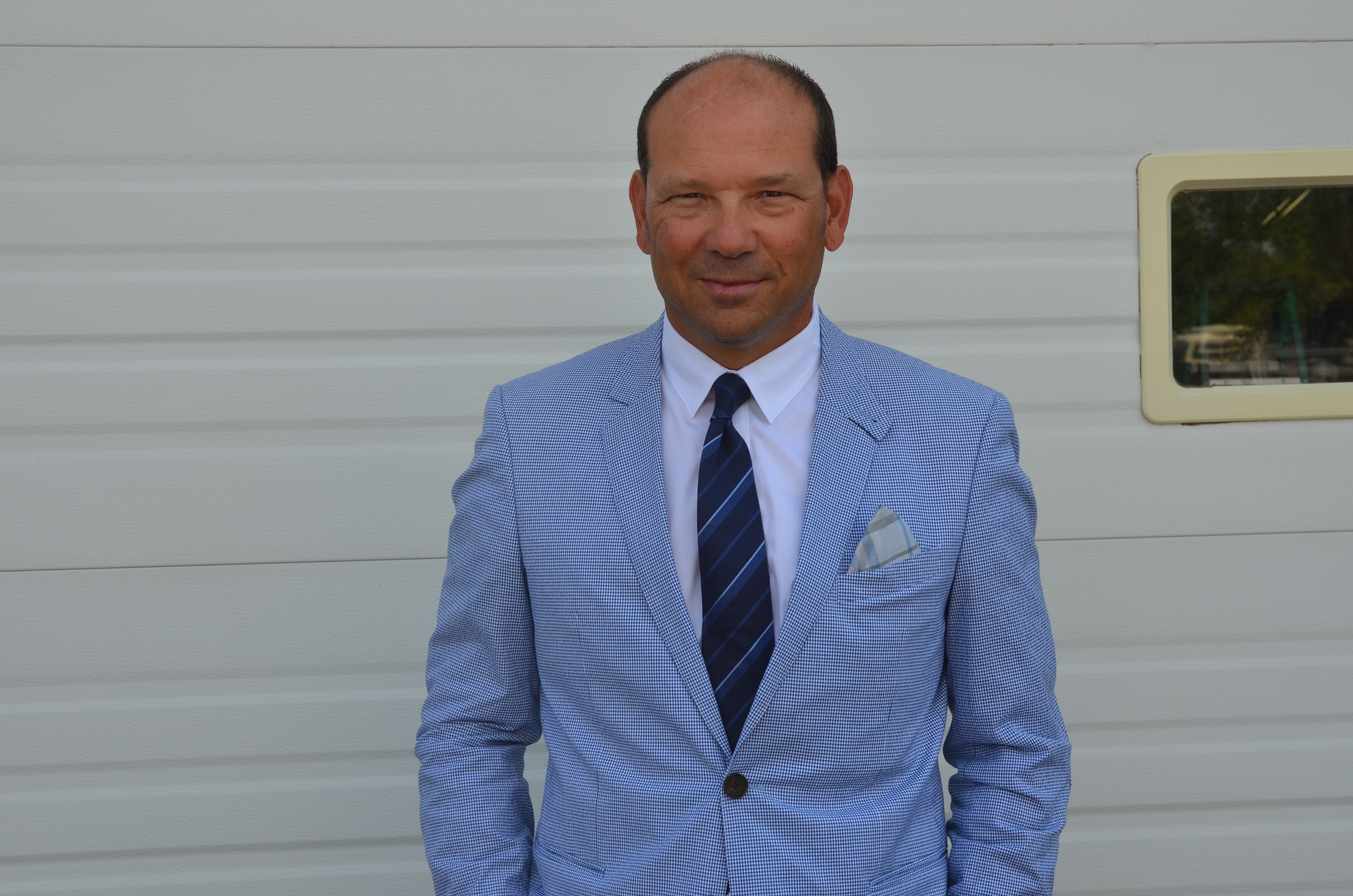 2018-03-19
Fred Losani is CEO of a 41-year-old family business that is building a legacy in home construction and giving back locally and internationally. Losani Homes has embarked on its biggest project to date — Central Park on the Stoney Creek Mountain — that is expected to kick-start an accelerated phase of groundbreakings for Hamilton's most award-winning homebuilder. Losani talked with biz magazine's Meredith Macleod about the company, the family and how they've grown together.
When Losani Homes' vision for Central Park on the Stoney Creek Mountain is fully realized— occupancy is expected to begin in mid-2018 — it will have been a game-changer for the company. At close to 1,300 units, it is the biggest development in its 41-year history and among the biggest developments ever in Hamilton.
Central Park is located on about 60 acres between the 280-acre Eramosa Karst Conservation Area and the Upper Red Hill Parkway and between Highland Road and Rymal Road. Stoney Creek-based Losani Homes began in 1976 with Italian immigrant John Losani building patios and driveways in Hamilton. The family lived in east Hamilton, near what is now the Red Hill Valley Parkway and then moved farther east into Stoney Creek.
John and oldest son Lino expanded into homebuilding as a way to extend the working season through the winter. Soon that became the focus and the company has grown to 120 full-time staff. "Lino could run a job site at 16 years old. He did a lot of the heavy lifting early on," says Fred Losani.
He grew up thinking of becoming a lawyer or maybe an oceanographer. "I loved documentaries and Jacques Cousteau had a cool hat," he says with a laugh. But the pull of the family business was just too great.
Losani joined the family business in 1985 after studying business at Brock University. While in school, he tested his independence by leading a small development of homes on another portion of the former Satellite City.
"I was able to link everything I learned in school to my experience. There was a practical application for everything – organizational behaviour, finance, marketing. I got a degree, a master's and an executive MBA all at once."
Lino as president and Fred as CEO work side by side but the family connection doesn't end there. Their sister, Julie Losani, leads customer care and sister Elena Geada operates Nonna's Cucina, a restaurant owned by the family business. The third generation is now on board with Fred's nephew, John Anthony Losani, as public relations manager. Another nephew, Justin Losani, recently left his job as a junior site supervisor.
John withdrew from the daily operations of the company in 1996, but at 83 he still likes to visit job sites when he's not travelling with wife, Maria. Losani says his father is still very much the patriarch of the family and "the strong cultural identity of the company."
At the heart of that is Losani Homes' charitable work, made a central part of the business in 2003. The family set up a foundation in 2013 that cements its local and international charity. Losani, along with five other Hamilton business leaders, raised $1.5-million for local children and families by trekking to the North Pole in 2006, the South Pole in 2008 and along the entire length of the Bruce Trail in 2012.
Losani, who has been married to Shelly 24 years and is father to Lauren, Noah and Alexander, says giving back has brought his entire family closer together and strengthened the company.
"It's just what we do now. We aren't just sending off cheques, but becoming part of the work to make communities better. I'm proud that we've also become ambassadors. Other families and companies have got involved because of our example."
After years where sales centres were jammed with frenzied buyers, Losani says the current housing market is "standardized" and "normalized."
"We would have 1,000 people inside a sales office and 300 or 400 people lined up outside," says Losani. "I'm proud of how we handled that. It took great organization and we treated people with respect. It was three years that way and I think it will happen again."
Losani Homes is adapting to a new phase in the market by expanding its marketing efforts and releasing units in smaller numbers. It's also building in more communities, including Grimsby, Beamsville, Kitchener, Waterloo, Brantford, Paris, Caledonia and St. George and moving into mid-rise and high-rise developments.
The company has built about 7,000 homes over 40 years but that is about to accelerate sharply. There are another 10,000 units in various stages of planning, all slated for development in the next three to four years.
This year brought a flurry of awards to Losani Homes, including the Ontario Chamber of Commerce's Business 360 Award in December that recognizes a small- or medium-sized enterprise that exemplifies forward-thinking in all aspects of business.
The company also won the Building Industry and Land Development Association's Stephen Dupuis Humanitarian of the Year Award for the Losani Family Foundation, three Ontario Home Builders Association Awards of Distinction for its Central Park community in Hamilton, the Hamilton Chamber of Commerce Outstanding Business Achievement Award, and the Hamilton Consumer's Choice Award for Top Home Builder.
And the company was named one of Canada's 50 Best Managed Companies for the ninth year in a row. The award recognizes excellence in Canadian-owned and -managed companies with revenues over $10-million. Losani Homes has earned platinum status, a feat achieved by no other homebuilder in Canada.
Central Park features a modern design not widely seen. Why make that choice?
"Starting in the late 1980s, no one has been pushing themselves architecturally. In highdensity developments, we're seeing modernity, clean design, great materials but we haven't see it in low density. Stone, stucco and brick has become the conventional standard. We worked hard to access great materials affordably for low rise. These elevations cost more than our competition but people see value in them. They have such a clean look, the townhouses look like a unified building from the street. We think it will mean great resale value. People will want to be here for the community and the uniqueness of the design."
What sets Losani Homes apart?
"We have a lot of land that is accessible and affordably priced. It's close to the core of communities and it's always on the fringe of conservation land or natural features. In Grimsby, we have land on the waterfront. In Beamsville, Vista Ridge backs on to a ravine and the Greenbelt and conservation lands. In Paris, our development is completely surrounded by the Nith River but you cross the bridge and you're in downtown Paris. Central Park is right off the expressway but beside 280 acres of the Eramosa Karst. I think, intuitively, we are attracted to unique properties. It really wasn't a set plan but it has worked out that way. It was an accident but now it's a design. We can be more deliberate about it."
Is there a development you are most proud of?
"There was a breakthrough community for us that changed the way we did things. We were doing about 38 units a year in 1988. We saw value of being vertical and being a land developer so that we could control all aspects. Other builders rely on others for their land supplies but how we feed ourselves land is in our control. Our second development as a land developer, Highland Gardens, was pivotal for us. It was a big test. In the fall of 1989, we made the decision to protect ourselves from a market downturn we thought was coming. So we put pavement down in December. In the spring, the market just disappeared but we were in the ground building houses. We survived that downturn well when others didn't. It cemented us as land developers and set the scene for decades down the road."
Why do you emphasize building accessible housing?
"Accessibility is easy but it makes a big difference. Everyone has a responsibility to provide housing that works for handicapped or aging people. Larger openings, accessible bathrooms and modified staircases or space for elevators. That is all so easy to do. We always take the path less travelled and entertain change. We allow a level of customization for buyers that most builders don't. We have a lot of talent in our production department. It's labourintensive but it's an important service to offer. As the economic climate becomes less certain, it sets us apart from our competition. We outsell two to one because no one can compete with our value proposition. As we've grown, we've maintained that flexibility and we've gotten better at it. Whatever a customer wants, a spa in the bathroom, a triple garage, an off-thehook gourmet kitchen, we can do it."
What is the favourite aspect of your job and your least favourite?
"My favourite aspect is being the quarterback of a team. I love quarterbacking an idea or a vision with motivated people. I like to be in charge. My least favourite is that not everything goes smoothly and when it doesn't I feel responsible for everything. I am fully vested in everything. Being in a leadership position asks the most of you and on some days you don't have it. But you get another chance the next day."
What is your approach to leadership?
"When it does get tough, I like to lead the problem solving. I believe in being a solutions-based individual. I prefer to lead problem solving than leading a vision."
Is the family business aspect a challenge?
"We aren't a traditional family business with those traditional issues. We are a merit-based organization. We aren't mired in those issues that can bring down a family business. We have a strong accountability process and the leadership of the company is clearly set out. We have four vice-presidents and none of them are family. If someone in the family wants a role in the company, we have the infrastructure to provide an opportunity. There is a very clear path for growth of an individual with great talent, whether they are family or not."
What has your strong charitable outreach given to your company?
"It has embedded itself deeply into the culture of the company. It defines a purpose of why you're here, what constitutes you as a company. If it's to build a better brand, be a better economic bet, grow the wealth of the family, that's all a hard sell to staff. It's a sellout. If I was starting a company now as a young man, I would make it part of the mission statement and the goals of the company: What are you doing to give back? How are you relevant? It's a huge mistake if it's not there. It has given purpose, meaning and worth to what we are doing."
What did you learn on your treks?
"When you get a bunch of A personalities together, they're all pig-headed, stubborn, the QB of their teams. But we all together had to work as a team. That was the most difficult thing. Out there in the middle of it, it tests your resolve and challenges what your ideals are. On the South Pole trip, one of the guys got injured and we sat with him for three days until he was taken care of. We could have just gone on and left him behind but it never dawned on us to keep going. It was about doing what was right."
Your company has won many awards, more than any other Hamilton homebuilder. What do they mean to you?
"We've had lots of recognition for our fundraising work, business awards from the Hamilton Chamber of Commerce, the Ontario Chamber of Commerce. We won 10 awards for Central Park from the Hamilton Home Builders' Association. It's amazing to be awarded for giving back and to be validated by customers and peers. It's great for team spirit and we share the wins together. But we're Italian; we don't really need to be given a reason to celebrate."
What is the best advice you've ever received?
"Tell the truth. The truth is always easy to remember."
What is the most Hamilton thing about you?
"I'm tough. Hamilton is a tough town, a tough place to do business. If you can make it here, you can make it anywhere."
What do you think about the buzz that exists about Hamilton?
"You know, I had dinner with a bunch of GTA folks yesterday and I told them, 'If you want to have dinner at the coolest place in Canada, we will go to Hamilton.' Toronto is one of the best cities in the world but what makes it cool is the Beach, Queen West, the cool districts. Hamilton is the cool side of the GTA. It's got it all – art, music, restaurants, great streets. It's still got affordability. What I love is that the change has been organic. It's not been led, it's been driven by artists and entrepreneurs. That's what makes it unstoppable."
What is your greatest gift?
"What we've created here is super important to us but it's not what defines us. It's our family that defines us."
Is there a bucket list for you?
"As I go through life, I have realized that my experiences fit in my bucket. It happens naturally. If you're leading an adventurous life, the bucket gets filled every day."
---
---