Builder Of The Week - Losani Homes Victoria Commons Offers Everything You Need In One Convenient Location
---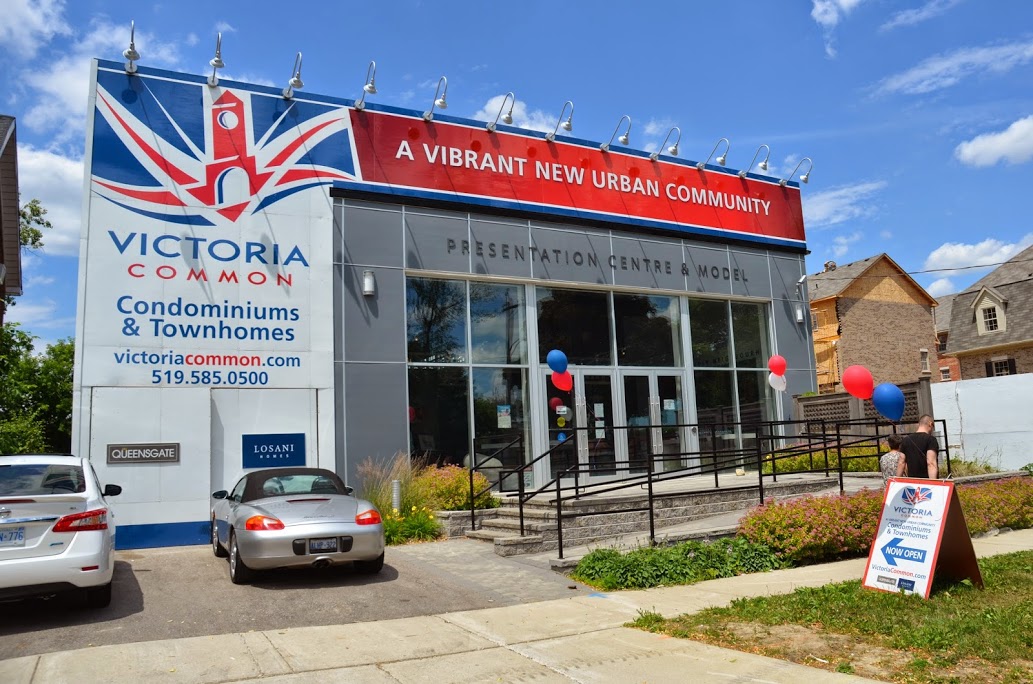 2014-07-02
Sunday, June 22 saw a great turnout of over 170 people at the Grand Opening of Losani Homes two brand new models at Victoria Commons townhomes located on Louisa Street in Kitchener. When completed, this one time tannery location will be completely transformed into a vibrant, modern, urban living centre encompassing 220 townhomes, 5 condominium buildings, and a pedestrian friendly community which will encompass cafes, shops, a playground, a splash pad/ice rink, and even a clock tower and concert podium set amid a beautifully landscaped central square.
Its convenient location between downtown Kitchener and uptown Waterloo offers many amenities just a short walk or bike ride away. Shopping, parks, restaurants, Centre in the Square, the Farmer's Market, GO Transit and the new LRT are all close by, as is easy access to the 401.
Sunday was the official unveiling of 2 new decorated models as well as a total of 10 units available to walk through. Certified Staging Consultant Nicole Maffey of The Staging House in Burlington was also on hand to give advice about staging for smaller spaces with tips on how to place furniture, and offered tricks like adding glass tables and mirrored surfaces to give the illusion of more space.
Both freehold and condominium style townhomes are available with a mix of exterior facades as well as "street townhomes" where the garage is at the front, and "lane townhomes" where it is located in a rear laneway. Models range in size from the 2 bedroom Windermere at 1060 square feet to the 3 bedroom Berkshire at 1915 square feet, with base pricing from $264,900to $330,000.
With a decidedly British flavour all of the 15 models available to choose from are named for English towns. The "Oxfordshire" model home at 1750 square feet shows the first level divided with a garage at the front and a versatile den/office space in the back. This configuration could also be transformed into a tandem garage allowing 2 vehicles to be parked inside. The second level offers great space with a large great room and kitchen with island and sliders to the patio. The 3 bedrooms on the third floor feature large windows with deep ledges, and the master bedroom offers a huge walk-in closet and ensuite with a separate tub and shower. The second model currently furnished to view is the "Whitehaven" measuring 1510 square feet. This layout is also a 3 storey, but of a slightly more open concept design.
Losani Homes offers many upgraded features as standard. Interior finishes include, hardwood flooring and 9' ceilings on the main level, granite countertops, berber carpeting in neutral palettes, premium furniture finish cabinetry, high quality faucets in both the kitchen and bathrooms, satin nickel hardware, with some models including balconies and air conditioning. Exterior standard features include genuine clay all brick construction on front and rear elevations, dormer windows, and metal insulated garage doors. "All townhomes will have landscaping, sod, and driveways," says Sales Representative Irene Manfini. "There is literally nothing to do, but just move in."
Losani Homes Pronto Program, one of the largest inventory home programs in southern Ontario, offers upgrades valued at over $16,000, a limited time bonus of a 42" TV, and some with flex space allowing the transformation of the garage into a tandem parking spot, and the ability to move in as little as 30-120 days from the purchase date.
For a limited time Losani Homes is offering a choice of $3,000 in dècor upgrades, a 5 piece appliance package, or a Smart Home Automation System, incorporating all audio, security, thermostat, and lighting features which can be controlled remotely, as bonus incentives.
Victoria Commons has been created with a lot of green features and energy efficient systems designed to save the homeowner money while saving natural resources. They claim it is possible to save up to $30,000 over 20 years with elements like energy efficient windows, sealed ductwork, reduced flow faucets, extra insulation in walls, garage and basements, high efficiency furnaces and hot water tanks, and low-flow toilets.
Losani Homes has been building residential communities for 37 years and have acquired a reputation for quality craftsmanship and well-planned designs. Their communities are identifiable by their wide boulevards, pleasing streetscapes and home designs with curb appeal. Since 2007 Losani Homes has been named one of "The 50 Best Managed Companies in Canada," and achieved Platinum Member status in 2014. In 2012 and 2013 they were awarded with a Consumer Choice Award in the categories of service, value, and quality.
---
---